www.wnfish.com.au
Welcome to the Williamstown and Newport Anglers' Club (WNAC) website.
Our fishing club is located on The Esplanade next to Williamstown beach, including club rooms, undercover storage for 35 boats plus kayaks, cheap club boat hire for members, boat slippage available with jetty facilities and dual boat ramps.
The WNAC is in the fortunate position of having fishing facilities right on Port Phillip Bay. Not only are these amongst the best facilities on Port Phillip Bay, but we also have an abundance of excellent fishing right outside our doorstep along the Williamstown and Altona reefs.
New members welcome
We extend an open invitation to you and your friends to join WNAC, enjoy the friendly atmosphere, and share the benefits of our wonderful Club. Our clubrooms are open most Wednesday's from 7.00 pm with meetings at 7.30 pm.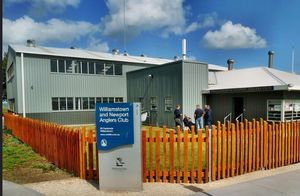 Click for larger picture
The objectives of the WNAC is to provide outstanding facilities for fishing and to promote:
Friendship amongst recreational anglers
The mutual exchange of fishing techniques and expertise
Sharing of information on where and when fish are biting
Sustainable fishing and fish protection
The best interests of the sport
Please come and visit us and see what we have to offer as a club.
Have questions or want to join? Please see our Visitor Information page.
If you love fishing, we know you would enjoy being a part of the Williamstown & Newport Angling Club.
---
Click link - Detailed live weather station feed
A live feed from the club's weather station above our club in Williamstown.
View of the weather station overlooking Port Phillip Bay.